Polis introduces Eagle and Summit County Wilderness Preservation Act before Congress adjourns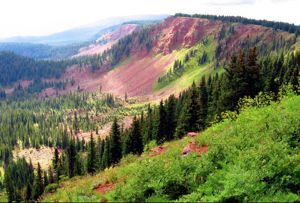 U.S. Rep. Jared Polis, D-Boulder, introduced a scaled-down wilderness proposal Wednesday night just as the House wrapped up earlier than expected with some major unfinished business left for a lame-duck session after mid-term elections in November.

Polis at that point hopes for his Eagle and Summit County Wilderness Preservation Act to be referred to the House Natural Resources Committee for review. Then, regardless of whether Republicans regain control of the House, he hopes his bill can find enough votes either as a stand-alone piece of legislation or part of a broader wilderness bill.
The Polis bill would protect nearly 166,000 acres of public land in Summit and Eagle Counties — 88,000 as wilderness and 78,000 as special management areas, including for high-altitude U.S. Army National Guard helicopter training near Eagle.
The bill is a far cry from the controversial Hidden Gems wilderness proposal that called for more than 300,000 new acres of wilderness designation for U.S. Forest Service lands and some BLM acreage in Eagle, Summit, Gunnison and Pitkin counties. Polis, who 2nd Congressional District only includes Eagle and Summit, trimmed nearly 80,000 acres from the nearly 245,000 acres Hidden Gems proposed for the counties in his district.
His scaled-down proposal gets the language on the record and could be incorporated in a larger proposal, but 3rd Congressional District Democrat John Salazar – whose district includes Gunnison and Pitkin — already has championed the San Juan wilderness bill and has been bucking the Democratic agenda as a Blue Dog fighting for re-election.
Groups such as the White River Forest Alliance, which opposed Hidden Gems because of restrictions on motorized travel such as mountain biking, four-wheeling and snowmobiling, are pleased to see Polis' scaled-back plan, according to the Aspen Times, although they are not endorsing the new plan.
Some Vail Town Council members included comments of support for the Polis bill despite the overall council tabling a resolution of support because of concerns voiced by the local water district. The council later approved a resolution of support in a 5-2 vote last month.
Here are comments of local support issued in a release by Polis' office Thursday:
"The vitality of our mountain resort economy flows from the natural environment around us and the balance between use and enjoyment and preservation of important lands. Congressman Polis' Eagle and Summit County Wilderness proposal has been tailored to help protect some of the more vulnerable lands adjacent to existing wilderness, while still leaving plenty of public lands for the mixed uses many of our residents enjoy. This is a real gift to future Eagle County residents."
– Jon Stavney, Eagle County Commissioner
"The preservation of our natural resources is not only good for our economy but for future generations. Protection of land, wildlife habitat, and water resources is absolutely vital to our future. Once these resources are gone, they are irreplaceable."
– Margaret Rogers, Vail Town Council member
"We're in the tourism business and people come to mountains to experience the natural beauty of Colorado, so it only makes sense that we preserve the scenic, wild areas near Vail for posterity. Polis' bill captures what we hope to achieve to protect our community's best interest."
– Andy Daly, Vail Town Council member
"Rep. Polis' action today is a giant step forward in securing Colorado's natural legacy. Wilderness designation will help protect our remaining intact ecosystems, wildlife habitat and migration corridors. I applaud Congressman Polis, his dedicated staff, and the many groups of people doing the difficult work of reaching consensus."
– Karn Stiegelmeier, Summit County Commissioner
"I appreciate the Congressman's efforts and his staff's efforts to listen to a great variety of parties. I am pleased that the parties sat down and have been working on these companion designations. I know I applaud the Congressman's efforts in getting us as much wilderness as he can."
– Dr. John Warner, Town of Breckenridge Mayor
---

6 Comments on "Polis introduces Eagle and Summit County Wilderness Preservation Act before Congress adjourns"