Arapahoe Basin cranks up snow guns, joining Copper, Loveland
And then there were three.
Arapahoe Basin joined Copper Mountain and Loveland in the snowmaking sweepstakes on Friday morning, churning out some of the artificial white stuff for the first time this season as an upslope system brought colder temperatures to the state and a dusting of new snow to the Front Range and the high country.
"We are making snow," Arapahoe Basin COO and vice president Alan Henceroth confirmed on his
blog
Friday morning. "We have some fan guns spinning away. Looks like we got an inch or two of natural snow last night. The forecast still says below freezing temps the next few nights (and maybe days)."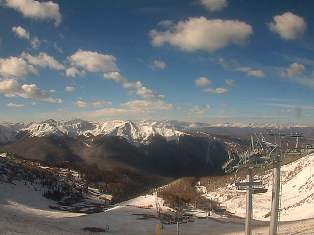 Loveland started making snow Thursday morning, and Copper cranked up its guns on Tuesday. Both Loveland and A-Basin should be open for skiing by the middle of the month. Copper likely won't open until early November. Vail is scheduled to open Friday, Nov. 16, followed by Beaver Creek on Wednesday, Nov. 21.
Opensnow.com is forecasting another storm Friday night into Saturday, then warmer and drier weather Sunday through mid-week, with more snow possible again Thursday into next weekend.
---

53 Comments on "Arapahoe Basin cranks up snow guns, joining Copper, Loveland"