Vail biomass plant dealt serious funding blow by DOE
But town officials, private developer keep pursuing plan
In the end, it may not be NIMBYism or environmentalist objections to producing power by burning trees that dooms Vail's proposed biomass power plant. It may just be a simple lack of funding.
On a short list of projects being eyed for Department of Energy funding, the Vail project - which would produce up to 28 megawatts of hot-water heat and eight megawatts of electricity by gasifying beetle-killed pine trees - came up short last week in its bid for a DOE grant to offset $46 million in startup costs.
The town of Vail issued a release saying six projects using natural gas as a fuel source were awarded $21 million in grants under the DOE's "Combined Heat and Power Systems Technology Development and Demonstration" program, leaving the Vail project unfunded.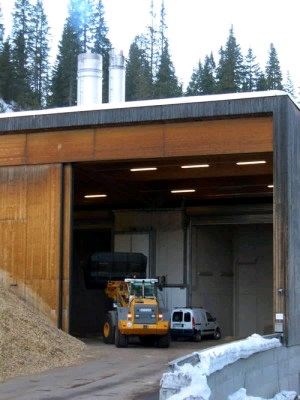 Some saw the Vail project as a way to start coping with the mountain pine bark beetle that has ravaged area forests, killing millions of acres of lodgepole pine trees and presenting significant wildfire risks for mountain dwellers, ski resorts and water storage facilities for Front Range cities.
Efforts to mitigate the wildfire risk by creating defensible space for firefighters around mountain communities have led to enormous amounts of slash and dead wood clogging local landfills. European countries such as Austria, where national forests are managed more intensively, have been utilizing woody biomass for power and heat for years.
But in Colorado there have been questions about access to the fuel source, how long it will last and whether the plant in East Vail would create a steady stream of trucks hauling trees to a wood chipping facility and back to the power plant. In other parts of the country, there has been a rising tide of protest over using trees to produce power and just how much carbon is produced by the process.
Proponents argue the emissions, which are lowered by the high-heat gasification process, more than offset either the amount of carbon that would be spewed into the atmosphere by a wildfire or even natural biodegrading of a forest ravaged by pine beetles.
Vail Town Manager Stan Zemler said in the release that the U.S. Forest Service is conducting a biomass supply study to determine if there is enough beetle-killed wood in the area to sustain a Vail-sized power plant over the long haul. Results of that study are expected in September.
Meanwhile, Andrew King of Hayden, Cary, & King, who submitted the grant request, said he will keep working with the Forest Service, town and Holy Cross Energy – the local electric co-op - to find different funding sources, including other federal grants and U.S. Department of Agriculture guaranteed loans.
In the original grant application, Zemler talked about offsetting the costs of mitigating wildfire risks by creating a market for regional waste wood and positioning Vail as an eco-tourism destination. Vail Resorts, which operates several local ski areas, including Vail and Beaver Creek, was mentioned as a potential buyer for the power that would be produced.
In a letter of interest to the DOE's National Energy Technology Laboratory last August, Zemler said the resort community is trying to lower its carbon emissions and energy use to 20 percent below 2006 levels by 2020 despite "rapid development."
At the same time, he said Vail is spending big money to cut down dead trees — more than 1.5 million acres have died statewide — in order to create a defensible space around town where firefighters will be able to dig in to combat wildfires.
"The town has invested over $600,000 in tree removal to establish defensible space against wildfire around our community, but there is currently no sustainable market for the waste wood, causing significant barriers to removal," Zemler wrote, pointing to a local power plant as an ideal market. Currently, trees are trucked at huge expense to lumber mills or wood pellet plants hundreds of miles away, and slash piles are burned in the winter.
Zemler also sees the facility as a domestic and international eco-tourism opportunity and a way to demonstrate the viability of small-scale biomass power plants around the country. He estimated a biomass plant would result in a reduction in carbon emissions of 17,000 tons a year and create at least 50 local jobs.
"This project will allow Vail to provide an educational experience for visitors and grow the tourist economy in town, which is currently based primarily on the ski industry. This project is a model for efficiency and sustainable energy use that will inform other communities' sustainability efforts."
Hayden Cary & King estimated six of the facility's 28 megawatts of power will be net electrical output, which the local rural electrical co-op, Holy Cross Energy in Glenwood Springs, has expressed interest in purchasing. The Vail Valley Medical Center, Vail Resorts, which operates the ski area and several large hotels, and the town of Vail would likely purchase the thermal energy to heat buildings and provide street snow melt.
Tractor manufacturer John Deere would partner on the project to demonstrate automated harvesting systems, including slash bundling, that can produce fuel for the plant and deliver it to the side of the road for less than $20 a ton. The key is to keep those costs competitive with natural gas, which is still relatively cheap in Colorado.
"Hayden-Cary & King Co. is working to combat the destruction and waste Colorado faces due to pine and spruce beetle infestations that are destroying millions of acres of Colorado's forests," Udall said in his letter of support. "The goals of the … combined heat and power plant project include re-establishment of the sustainable forestry industry, economic development and education that will add a competitive energy to the grid."
The Denver Water Board is dealing with the fallout from recent massive wildfires far outstripping what Vail is spending on fire mitigation. The company providing water to a quarter of the state's population (1.3 million customers) has had six wildfires since 1996 in one of its most critical watersheds, the Upper South Platte.
As result of the Buffalo Creek and Hayman fires, erosion has forced Denver Water to embark on a $25 million project to remove sediment from Strontia Springs Reservoir.
"There is a shrinking forestry industry and a lack of infrastructure and the creation of markets to maximize the economic value of the trees," Denver Water Board Manager Hamlet J. Barry wrote to the DOE in a letter of support for the Vail project.
"The combined heat and power system project would not only provide clean energy, but establish a demand for sustainable forestry practices. These types of projects will help reduce the treatment costs in the forest and promote healthier forests within Colorado's watersheds."
And the U.S. Forest Service, which manages most of the acreage currently being devastated by the bark beetle, has signed on because, "The Forest Service has an acute need for utilization of beetle killed pine and spruce," according to Susan Ford of the USFS Rocky Mountain Region office in Golden. "The reality of a successful project in Colorado would be an exceptional opportunity to demonstrate sustainable, community-scale projects."
The nearby town of Avon, at the base of Beaver Creek ski area, also has been looking into biomass power. Beaver Creek's sister resort of Lech, Austria, has a biomass power plant that provides 90 percent of the heat for the town's hotels and lodges, all but eliminating a brown cloud that had developed because of traditional heating oil.
In support documents filed with the DOE, Hayden Cary & King officials said they could envision owning and operating 100 such facilities in the United States within 10 years, although there are potentially 10,000 ideal locations. Other communities in Colorado, besides Vail and Avon, have expressed interest, including the city of Rifle in the heart of Garfield County natural gas country.
---

44 Comments on "Vail biomass plant dealt serious funding blow by DOE"