Vail opens three more chairlifts after four more inches of snow
Beaver Creek chimes in with 5 new
With the opening of Chairs 10 (Highline Express), 14 (Sourdough Express) and 26 (Pride Express) Wednesday and today, most of the front side of Vail Mountain is now open – just in time for 6 inches of new snow over the last three days.
Still not the big dump everyone is waiting for, but 4 inches new this morning and a couple inches the day before all adds up to fairly decent conditions at Vail, where there are now more than 1,400 skiable acres and temps have stayed cold enough to allow for plenty of snowmaking.
Dry and sunny conditions move in for the weekend and first part of next week, with the
next storm on Wednesday
expected to continue a trend of splitting to the south and north of Vail. This week's storms dumped heavily on southwestern Colorado, where Durango, Silverton and Wolf Creek scored big time.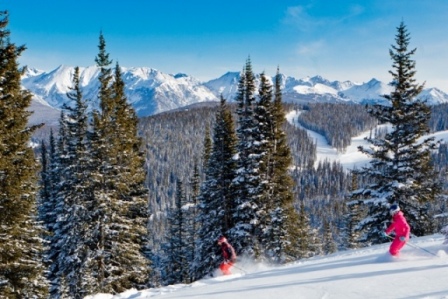 And while the Vail Valley is lagging well behind its record snowfall pace of a year ago, things could be so much worse. Take France, for example, where a lack of snow has forced the cancellation of major World Cup ski races and put other events in question.
Beaver Creek recorded 5 inches new as of 5 a.m. today. Vail's high altitude and fairly consistent snowfall mean that eventually the bigger storms will come – and the Back Bowls will open. Go to the Vail website to keep track of terrain and snow conditions.
Meanwhile, in Vail Village itself, free music returns after taking a few days off in the wake of the highly successful Vail Snow Daze free concert series. The Bud Light Street Beat series takes over tonight with Marcia Ball on the Solaris at Vail stage at 6:30 p.m, and shows continue periodically through April.
A slew of more family oriented shows and events marks the return of Vail Family Holidaze Dec. 17-25, and anyone looking to celebrate the new year in Vail should consider a brand-new event called Vail New Year's Eve 2012 at Dobson Ice Arena, featuring DJ Logic and DJ Golden b.
---

0 Comments on "Vail opens three more chairlifts after four more inches of snow"
Be the first to comment below.