Wolf Creek kicks off 2011-12 ski season with fresh powder
Beaver Creek to start snowmaking in coming week
Wolf Creek Ski Area in southern Colorado opened this morning with 32-inch mid-mountain base and 35 inches at the summit, becoming the first ski resort in Colorado to open for the 2011-12 ski season.
Wolf Creek, which has received nearly four feet of snow since Thursday, set a new record for its earliest open ever. Its previous mark was Oct. 27, 2006. About 1,300 snow riders came out to make tracks on 600 skiable acres served by three chairlifts.
"Colorado only ended its 2010-11 season in July, and here we are in early October already celebrating a resort opening," Melanie Mills, president and CEO of Colorado Ski Country USA, said in a release. "At this rate, Colorado is practically a year-round ski destination."
Arapahoe Basin closed in July after a record season for snowfall in 2010-11. A-Basin and Loveland Ski Area usually duel for first-to-open honors in Colorado, but this week's massive southern storm allowed Wolf Creek to grab the title this season.
Wolf Creek will remain open through Monday (Columbus Day) and then reopen Saturday and Sunday, Oct. 15-16 after not operating Tuesday through Friday.
Wolf Creek is a
throwback ski area
off the beaten path near Pagosa Springs in southern Colorado. It's long battled the massive base-area development of much larger resorts, and every season it seems to win the annual snowfall battle.
Closer to Denver and the major Front Range population centers, A-Basin and Loveland both started snowmaking operations this week and expect to open by the middle of the month. Copper Mountain also started snowmaking this week and opens for U.S. Ski Team training Nov. 1 and to the public on Nov. 4.
Vail Resorts' Keystone resort, also schedule to open Nov. 4, expects to start making snow on Oct. 18. Breckenridge opens Nov. 11; Vail opens Nov. 18 and Beaver Creek opens Nov. 23.
Steady snow has been falling throughout the day in the Vail Valley but is expected to taper off by the weekend and give way to warmer temperatures at the beginning of the week.
Beaver Creek officials put out a press release this afternoon saying "snowmakers are busy preparing to fire up snowmaking systems in the coming week." The Birds of Prey
World Cup races
are scheduled for Dec. 2-4.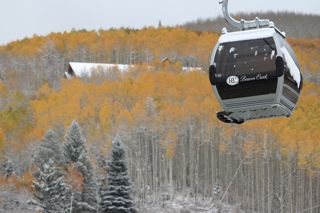 At Vail, the Golden Peak training facility for the U.S. Ski Team anticipates opening Nov. 1, more than two weeks before the mountain opens to the public.
For more information about Wolf Creek or any of Colorado Ski Country USA's 22 resorts, go to www.ColoradoSki.com.
---

87 Comments on "Wolf Creek kicks off 2011-12 ski season with fresh powder"