As Vail preps for 2015 worlds, some look ahead to 2022 Winter Olympic bid
Senate candidate says Olympics could be key to fixing Interstate 70 gridlock
Government officials from Vail to the Front Range foothills agree it will take an Olympian effort to fix winter weekend skier traffic snarls and summer tourism gridlock on Interstate 70 between Denver and Colorado's most popular mountain resorts.
But with a price tag of $9 billion for high-speed rail from Denver to Vail, some observers say it will literally take the Winter Olympics coming to Colorado to secure the federal and state funds needed to make the rail solution a reality.
Still, mountain towns like Vail and Avon – where preparations are already underway for the 2015 World Alpine Ski Championships -- can dream. And politicians can continue to make fixing I-70 a campaign issue ahead of the November election and likely many future elections to come.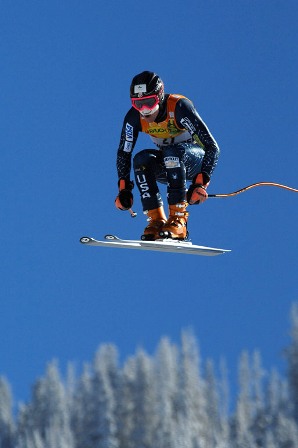 "We might host the Winter Olympics in Colorado, and if we did, certainly the I-70 corridor would be a part of the travel pattern … and those private companies that want to showcase what amazing work they can do to the world might want to use Colorado as a model," said
Jeanne Nicholson
, a Democratic Gilpin County commissioner running for the state
Senate District 16
seat currently held by Democrat Dan Gibbs.
Running for a seat held by Gibbs, who made transportation a signature issue, Nicholson says it will take a healthy mix of private and public funding to fix gridlock on I-70 for tourists and locals.
Nicholson's Republican opponent, Evergreen commercial real estate developer Tim Leonard, told the
Summit Daily News
that the state's ski industry should stand on its own two feet, offering "a better product at a lesser price" in order to compete with other states. Nicholson is in favor of increasing funding to market the Colorado skiing and tourism industries.
"Tourism is an industry in Colorado that provides a lot of jobs and doesn't harm the environment in ways that other industries can. For example, what just happened in the Gulf of Mexico," Nicholson said, referring to the Deepwater Horizon oil spill. "You're not likely to have a major long-term negative environmental impact with tourism, but you are going to be able to create jobs."
She said a Denver and Colorado bid for the 2022 Winter Olympics could boost the state as a global tourism destination. Harry Dale, a Clear Creek County commissioner and president of the Rocky Mountain Rail Authority, which drafted a $
1.5 million study for the Colorado Department of Transportation
on high-speed rail along I-70 and I-25, says simple economics may force the issue sooner.
"A lot of people have said the only way you're ever going to build a transit system in the I-70 corridor is to get an Olympics because that will create the motivation to do it," Dale said in an earlier interview. "I think when we get to $10 a gallon for gas in the next five to 10 years that might do it too."
In Vail, former ski company executive and current town council member Andy Daly
has previously said
fixing I-70 may take a bid similar to the Salt Lake City in 2002: "I look at how Salt Lake got their interstate highway system rebuilt in anticipation for the Salt Lake City Olympics, and I think having a new, state-of-the-art, world-class transit system to the mountains would be essential for a really successful bid for the … Winter Olympics."
The United States Olympic Committee opted not to bid for the 2018 Winter Games, instead focusing on the failed 2016 Chicago Summer Games that went to Rio de Janeiro, Brazil. The next opportunity for Colorado, which once was awarded but later rejected the 1976 Winter Olympics, would be 2022.
Vail and Beaver Creek will be well-positioned for such a bid, at least from an alpine skiing facilities and organizational standpoint. Already the hosts of two world championships (in 1989 and 1999), Vail this year was awarded the 2015 championships -- second only to the Olympics in ski racing prestige – and has already started the planning process.
Top international ski racing officials will visit the Vail Valley the first two weeks of September to begin planning for the 2015 championships, and U.S. Forest Service officials expect a definitive proposal from Vail Resorts for terrain and facility changes in the next month or two.
John Dakin, spokesman for the Vail Valley Foundation -- organizers of the races – says members of the International Ski Federation (FIS) and European Broadcasting Union (EBU) coordination commission will be visiting Vail and Beaver Creek during the second week of September, while the FIS women's race professionals will be here the first week of September.
"We should know a whole lot more about things after those two sets of meetings," Dakin said last week. "We are in the process of putting together a draft of a potential organizing committee structure, but there is nothing firm."
Vail Resorts officials have said
they plan a new women's downhill course to rival the adjacent men's Birds of Prey course at Beaver Creek, as well as major upgrades to the Red Tail finish area there, including a new restaurant. Vail, which will host the women's giant slalom and slalom, as well as the opening and closing ceremonies, will see a "dramatic new stadium" in Vail Village. All of these upgrades would obviously position the resorts well for a possible future Olympic bid.
Don Dressler, snow ranger for the Holy Cross Ranger District of the White River National Forest, said his federal agency expects to see plans from Vail Resorts in the next month or two, which, if accepted as an appropriate use of public lands, will launch either an environmental assessment or environmental impact statement process that will likely take up to a year. Only then can construction begin on the daunting ski terrain of Beaver Creek.
"The men's course is one of the most difficult courses on their circuit, so it wouldn't be an appropriate women's venue and so then we started to discuss the potential for a women's venue and it's an appropriate use of lands designated for ski areas, so it's really designing a course that would be appropriate for the setting," Dressler said. "The devil's in the details."
---

40 Comments on "As Vail preps for 2015 worlds, some look ahead to 2022 Winter Olympic bid"