Copper Mountain starts snowmaking; Loveland, A-Basin may fire up guns tonight
Winter weather returns to Vail Valley; colder temps through weekend
Copper Mountain ski area apparently won the race to be the first Colorado ski area to start serious snowmaking – firing up the guns Wednesday night and into this morning – but Copper isn't even in the hunt to be the first resort in the state to open for the 2011-12 ski season.
The two areas most likely to grab that honor – Arapahoe Basin and Loveland – did not get the snowguns going Wednesday night as a winter weather system moved into the state. But with temperatures expected to plummet behind the storm, both areas may fire up the guns tonight.
"We were not able to make snow last night, but tonight looks good for lower temperatures," Arapahoe Basin spokeswoman Leigh Hierholzer said this morning in an email. "We do not have an opening date as of yet; it will all be snow dependent, as usual. We are thinking mid-to-late October, as usual."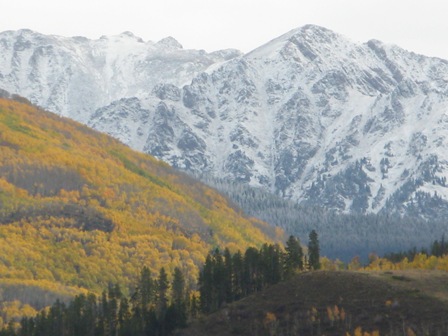 Last season, A-Basin opened on Oct. 25, edged in the annual race to open first by Loveland, which opened Oct. 24. The season before, A-Basin enjoyed one of its earliest openings ever on Oct. 9, 2009, but was edged by Loveland on Oct. 7.
According to Colorado Ski Country USA, the last time A-Basin was first was on Oct. 15 of 2008, when it tied with Loveland.
"We have not started [snowmaking] yet. Maybe tonight," Loveland Ski Area Marketing and Communications Director John Sellers said in an email this morning.
The Vail Valley, where Vail and Beaver Creek don't open until Nov. 18 and 23, respectively, didn't get any snow in the valleys, where rain fell overnight both Tuesday and Wednesday. But the high peaks above 11,000 feet got a significant dusting of new snow (see photo of Gore Range).
Copper Mountain, just on the other side of Vail Pass, is
supposed to open to U.S. Ski Team training
on Nov. 1 and to the general public on Nov. 4.
"I got an email saying that we began making snow last night; not much, but we started," Copper spokesman David Roth said by email this morning. Roth is out of state on a promotional tour this week.
According to meteorologist and weather blogger Joel Gratz at
Colorado Powder Forecast
, the bulk of the current storm is hitting the San Juan Mountains in southwestern Colorado, although he expects up to six inches to fall in the north-central mountains this afternoon – with snow levels down to 7,000 feet. Then the cold moves in for the weekend, which would be ideal for snowmaking.
According to Patrick Thorne at
skiinfo.com
, Timberline in Oregon is the only North American ski area currently open for business, although California resorts saw some significant snowfall Wednesday.
---

114 Comments on "Copper Mountain starts snowmaking; Loveland, A-Basin may fire up guns tonight"